Presented to Redland Rhapsody Chorus 2023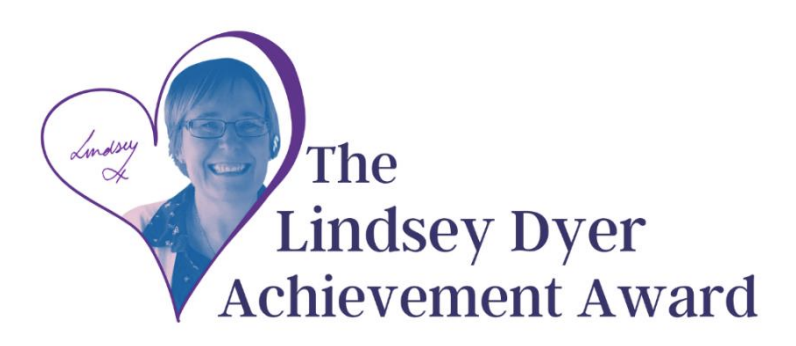 The Lindsey Dyer Achievement Award is an award that is presented annually at the Region 34 Convention and Competition to a chorus or quartet from Region 34. This award was established in memory of the late Lindsey Dyer, who was a passionate leader within Region 34.

Nominations for the Lindsey Dyer Achievement Award are invited from (or on behalf of) choruses and quartets which, over the last year, have worked to improve their performance and skills while upholding the values of Sweet Adelines International in Region 34. This may be demonstrated by consistent attendance at regional education events, working with Regional Education Faculty and/or coaches, engagement with the community, positive group culture and, most of all, a love of barbershop with demonstrable initiative and commitment to the values of Sweet Adelines International.
Redland Rhapsody Chorus received the Lindsey Dyer Achievement Award in 2023, together with Cocktail Hour Quartet. Our nomination for this 2023 Award is printed below.
The Lindsey Dyer Achievement Award Nomination 2023
Name of Chorus: Redland Rhapsody Chorus
Attendance Summary at Regional Education Events 2022/23:
SAA Adelaide Festival (May)

Director's School (June)

Barbershop Boot Camp reboot (August)

Director's School (January 23)
Coaches 2022/23
Bec Hewitt - 3 hours (April)

Nicky Frew - Weekend (October)

Vicki Dwyer - Weekend (November)

Kim Vaughn - Weekend and Rehearsal Night (January 23)

Liliana Macarone - Rehearsal Night (March 23)
Engagement with community summary 2022/23
Performances at:
International Women's Day for Zonta International Club (March)

Renaissance Retirement Village for Cancer Council Biggest Morning Tea (May)

Tranquil Waters Retirement Village for Mother's Day (May)

Marebello Aged Care Village (May)

Community Visitor Scheme Thank You Lunch (May)

Lions Club of Capalaba Annual Changeover Lunch (June)

Women's Interactive Group (September)

Ladies On Our Own Ministry Morning Tea (September)

Redlands Diabetes One Walk (October)

Soroptomist International - Women's Voices Event (October)

Carols in the Park Mt Cotton (December)

Mater Hospital Markets (December)

Multicap Disability Support (December)

Wakerley Carols (December)

Aveo Retirement Village (December)

Victoria Point Shopping Centre - multiple performances (December)

Cross River Rail - multiple performances (December)

Brisbane Holiday Village (December)
Chorus Fundraising in the community:
Bunnings Sausage Sizzle (June)

Movie Event 'Elvis' (July)

Ladies Night Christmas Market (November)
Other activities:
Redland Sings - a community event led by Jonathon Welch (Aug to Nov)

Workshop led by Jonathon Welch (Aug)
Description of Group Culture
RRC has a culture that values and supports inclusiveness and diversity, friendship and joy and personal growth and development through acknowledging the contributions of all members, genuinely caring for each other, having a strong community spirit and striving for excellence in performance.
This is demonstrated in the following ways:
1. Inclusion
Throughout the year we:
supported one member who has ongoing neuropathy and is no longer able to stand on the risers. We have had a fit for purpose riser chair built for her;

encouraged another member with vision impairment to be one of our pitch pipers and ensure she stands in a safe and supported place; and

provided a high level of care and support to a longstanding member with progressive dementia to enable her to continue to attend rehearsals,
2. Acknowledgement of members' contributions
At the end of every rehearsal our Director personally thanks and recognises everyone who has contributed to the success of that rehearsal.
A 'Go The Extra Mile' (GEM) award and tiara is presented each month to a member who has gone the extra mile for the chorus.
We participate in Region's Sweet Adelines of the Year award.
We have an annual award to acknowledge a member's significant contribution. In 2022, the existing annual award was retired and replaced by 'The Laurel Santry Shining Star Award'.
Last year we instigated the 'Director's Award', to be an annual award, chosen and presented by our Director
At our retreat in 2022, our Membership Coordinator organised an award for all 50 members of our chorus to recognise that every member has a role to play and deserves recognition.
3. Supporting each other
Our chorus uses the Big Sister Little Sister programme for new members which is currently being reviewed.
Our membership coordinator posts quizzes and other fun games on our private chorus social page.
We give accolades to our members who achieve great things outside of their chorus life on our social page.
In times of sickness, loss and grief, we all rally around each other, often visiting, taking cards and flowers and seeking to assist and shower them with love and kindness when they return to rehearsal.
We lost our dear member, Laurel in 2022. The chorus gave up our venue (that we had previously booked for coaching on that day) to Laurel's family for her Celebration of Life. Everybody took on the tasks of setting up the room, baking and catering for over 150 people, organising the technology and assisting the family. The chorus sang in honour of Laurel, supporting each other through our own grief. It was an atmosphere of love and caring which continues on to this day as Laurel's passing truly had a profound and lasting effect on the chorus.
In 2022, our usual competition focussed retreat was changed to a focus on our members and on team development.

We organised a "Goose Chase" using an app to set up and complete team challenges such as taking videos and photos of particular activities and challenges. There were both creative and social challenges which required strategies and teamwork. We laughed hard, played hard, and above all bonded and formed stronger friendships. It was the perfect activity to celebrate our annual chorus Foundation Day, after Covid had kept us apart.
4. Community Spirit
2022 saw the chorus perform at 7 different retirement villages and many community Christmas carol events.
Over the last 12 months we have had a Breast Cancer supper and a Teal supper after rehearsals to raise awareness for Breast Cancer and Ovarian cancer and in recognition of Laurel Santry.
We have 2 Breast Cancer survivors in our chorus, and this is what they say about our pink and teal nights:
Sue: Having a fundraiser for breast cancer made me feel so supported by the community of women that is RRC. It makes it a "safe" space to share my feelings on the tough days and also to rejoice at each milestone achieved. I know that if I were to relapse this group of women would be there to support me at every stage.
Angela: As a survivor of breast cancer, I feel so supported by the chorus fundraising efforts for breast and ovarian cancer and Laurel's inspiration during her battle has given me the strength to continue singing.
Examples of initiative and commitment to the values of Sweet Adelines International in Region 34
1. Musical Excellence
Our Director organised a workshop on 'Preparing for a Great Rehearsal' education event for our chorus Music and Visual Teams with Lynne Smith over zoom paid for by our Chorus.
Our Director organised, and the chorus has paid for, Lea Baker's barbershop singing education programme.
In 2022, we established a Quartet Club to encourage those members who were wanting to explore singing in a Quartet to connect with others in a safe and caring environment.
One of our quartets volunteered to be coached at the Quartet master class provided by Region.
We continued with our decision to submit a video for the 2022 competition one week after Laurel's Celebration of Life and two weeks after her death, when we were still deeply grieving her loss, The determination to compete in 2022 under such difficult circumstances, when it would have been easier to withdraw, is a credit to our Director and every one of our chorus members.
2. Culture of Belonging
A smaller group, lovingly known as the Coffee Clubbers, was established in 2021 by Laurel Santry which allowed less confident members to ask questions and learn more about the barbershop genre. The positive interaction of these members through a social outing after rehearsing is so valuable in strengthening bonds within the chorus. Since Laurel's passing in early 2022, the group made the decision to continue the passion that Laurel brought to the group by meeting weekly as an ongoing legacy to her.
3. Diversity and Inclusion
RRC has a strong culture of inclusiveness irrespective of gender, disability or ethnicity.
4. Personal Empowerment and Leadership
Members were encouraged to have a PVI whenever we had a visiting coach.
We have 8 members enrolled in the MLP, and one member who completed the course last year. The chorus pays for their enrolment.
We had 2 members complete the DCP over the past year, and another 2 members are enrolled. The chorus pays for their enrolment.
Redland Rhapsody Chorus is proud to say that it currently has 5 chorus members who are involved with regional activities and supported by our chorus members in their roles:
Karen Phillips - Marketing Coordinator
Megan Bishop - Competition Coordinator
Dianne James - Governance Coordinator and REF
Susan Evans - Information Technology - assistant to Ros Beste, Webmaster
Cathy Sterling - State Events Coordinator 2022 and incoming Event Coordinator
Outreach
Our chorus organised 2 membership events in 2022 - a one day workshop and an open night - to attract new members to our barbershop craft.
We assisted the State Events Coordinator with catering for the weekend of the August Boot Camp. Many of our members also attended this event.
We have made a connection with a local Councillor who organised performances for us at local retirement villages.